Miami Tours
Miami Tours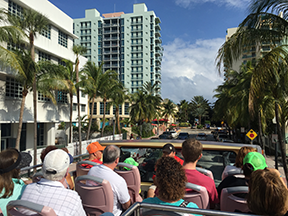 Miami Tours - Miami Double Decker Bus Tours
If you are in love with Miami's historical gems and cannot do without seeing its natural treasures, then it is high time you plan for a Miami trip. Miami attends to the diverse needs of the travelers and ensures they have a spectacular time on their vacation. And then, the best part about a Miami vacation is that you can plan it in a budget-friendly way. All you need to do is take a Miami double decker tour and start exploring some of the amazing sights ever.
Why choose Double Decker Bus Tours?
The double decker tours have been designed particularly to show vacationers the best of the Magic City. If you want to get a comprehensive view of the city, then make sure to board one of the luxury buses and travel in galore. One of the distinctive features of the double decker tours is that you've the elasticity to hop-on and hop- off at place that intrigues you the most. Hop-off from your bus, devote some time in your favorite destination, capture precious moments and then re-board another bus and continue with your journey. Sit back and relax while our professional tour guides keep you updated about the city's fascinating history. The well-narrated tour also features recorded commentary and gives you a deep insight into the city life.
Destinations Covered by Double Decker Tours in Miami
Some of the prominent places that you can expect to see by taking a double decker bus tour are as follows:
 The Art Deco District: Take an Art Deco District tour and see how the MDPL has worked assiduously since 1976 to save the genuineness of what now stands as the ten Miami Beach Architectural Historic Districts and eleven designated buildings. Most of these architectural treasures are located along the beachfront and mirror the regional influences immensely. En route, you'll also find various Ocean Drive hotels such as the Colony and the Marlin.
 Coconut Grove: One of the best Miami family destinations, Coconut Grove is famous as the oldest neighborhood in Miami. The place has lots of history and character to explore. Get down from the bus; rent a bike or take a stroll through its backstreets and you'll fall in love with the mesmerizing old oaks, palm trees and hot pink bougainvillea that clings to the white fences. And if fortunate, you may also see wild peacocks roaming freely with their radiant blue tails or tiny green parrots flapping through the blue sky.
 Little Havana: Get the genuine taste of multicultural Miami by taking a Little Havana tour. It's a vivacious Cuban locality that houses significant landmarks like Calle Ocho- an outstanding drag where you'll find fruit stands, art galleries, cigar shops. Walk a bit farther and you can spot Cuban restaurants lining the street. And finally, there's nothing like walking up to the Walkway of Stars that honors Latin American celebrities such as Celia Cruz and Gloria Estefan. For an amazing Miami vacation, get in touch with us today and grab pleasant deals on Miami bus tours.